Dermaplaning is a simple and safe procedure using a sharp blade (scalpel) to exfoliate the epidermis with the added benefit of removing vellus hair (peach fuzz). Dermaplaning provides an immediate result with a smooth, more even tone and vibrant appearance. It is popular before big events, as the result is immediate and makeup goes on the skin smoother, appearing more natural.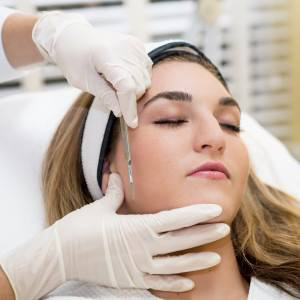 An effective treatment on its own, but is also commonly used as a prep before other esthetic treatments including superficial chemical exfoliation, LED, ultrasound, microcurrent or as an add-on to a facial.  Clients that have an excess amount of vellus hair particularly like dermaplaning for the smooth texture that occurs after the hair removal. This hair can also trap dead skin cells and oil in the follicles, resulting in clogged pores. Therefore, removing the hair gives you clearer, healthier skin. This is also a great treatment for clients who are pregnant or nursing, and looking for a deeper exfoliation without the risk of applying topical products that could potentially be absorbed into the bloodstream.
There is no downtime associated with this procedure. It's merely an old wives' tale, that the hair will grow back heavier and darker after dermaplaning. Shaving cannot change the structure and function of the hair. It will grow back at the same rate and texture as before the treatment. The hair may feel blunt when it initially grows back. This should not be confused with extra hair growth. The Dermaplane Facial has become the fast favorite at Aroma Essence Skincare and includes the relaxing warm stone massage and deeply hydrating facial mask. 
Julianne Bacialli is a licensed esthetician with more than 18 years of experience. She has knowledge in all aspects of the skin care industry, specializing in medical esthetics and is the owner of Aroma Essence Skincare.