Relax & Rejuvenate with a Massage!
Every massage is customized, integrating many techniques to achieve a particular outcome.
Special recognition is given to the combination of deep tissue massage and trigger point therapy as the results are most impressive.
60 Minutes  $80
One hour is appropriate to address a particular pain pattern with detailed work or to fulfill a light Swedish massage. Energize your vital pair of feet with 60 minutes of Structural Foot Reflexology!
75 Minutes  $95
Extensive foot work and cranial/facial acupressure are integrated into massage, creating a fuller experience.
90 Minutes  $110
An hour and a half is recommended for a whole body massage, complete with thorough Deep Tissue and Trigger Point Therapy.
120 Minutes  $140
Two hours ensures you a fully comprehensive massage that addresses acute and chronic issues while still allowing time to recover from the intensity deep tissue and trigger point work can involve.
Descriptions of most used modalities:
Deep Tissue Massage – muscle specific massage bringing nutritious, oxygenated blood deep into the congested muscle, relieving pain caused by ischemic tissue.  This massage also focuses on creating space between the muscle segments, increasing range of motion and flexibility.
Trigger Point Therapy – body work most effective in treating chronic and acute pain.  Trigger points become problematic with repetitive motion, injury, and also lack of activity (such as restriction to a sling, sitting/standing in static positions for long periods).  Pain relief is achieved by displacing the trigger point pain pattern.
Myofascial Release – structural bodywork designed to improve posture by removing adhesions in connective tissue and minimizing scar tissue, promoting healthy tissue regeneration and a sense of a more functional postural positioning.
Swedish Massage – long, flowing strokes are used primarily for the purpose of relaxation and circulation.  This massage also enhances lymph flow, the body's natural immunity defense.
Structural Foot Reflexology –points corresponding to the spinal column and skeleton are assessed for inconsistencies and restorative adjustments are made.  This work also aligns and balances the structure of the foot by releasing restrictions in the connective tissue known as fascia.
Book An Appointment!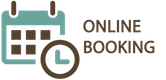 Call Today to schedule some time for yourself.
Click on Contact Us for more information and to book your appointment today.